Bulletin 1
Czech Orienteering Championship 2018 – middle
Czech Masters Orienteering Championship 2018 – middle
World Ranking Event
Public orienteering race
ORGANISER:
Czech Orienteering Association (ČSOS)
KOS TJ TESLA BRNO z.s. (TBM)
DATE:
Saturday 23rd June 2018 – middle – qualification
Sunday 24th June 2018 – middle – final
EVENT CENTRE:
Chlébské, meadow above the village (GPS: 49.4778394N, 16.3777831E)
CLASSES:
WRE classes are D21 for women and H21 for men.
Czech O-Championship: D16, D18, D20, D21, H16, H18, H20, H21
Czech Masters O-Championship: D35, D40, D45, D50, D55, D60, D65, D70, D75, H35, H40, H45, H50, H55, H60, H65, H70, H75, H80
Public race: P – simple course (level of DH12), T3, T5 – training courses (ca 3/5 km) (D = women, H = men)
ENTRIES:
The deadline for entries is 7th June 2018 23:59 (entry fee), online via Oris (Czech runners) or via IOF Eventor (non-Czech runners in DH21 classes) or via e-mail to prihlasky@tbm.cz (e-mail application is valid after confirmation). Late entries are accepted until 10th June 2018 23:59 (entry fee + 50 %). Later entries are possible only for the public race (classes P, T3, T5; entry fee 250 CZK).
ATTENTION: IOF ID is requested for all WRE (DH21) competitors! IOF ID is available in IOF Eventor after registration.
ENTRY FEES:
DH16 – DH55: 340 CZK (2 days)
DH60 – DH75, H80: 270 CZK (2 days)
P, T3, T5: entry until 10. 6. 2018: 150 CZK / day; entry in event office: 250 CZK / day
SportIdent rental charge: 50 CZK / day.
PAYMENT:
Payment of entry fees and SI card rental charges are accepted via bank transfer up to 15th June 2018:
Bank: Česká spořitelna, a.s.
Bank Code: 0800
Account No.: 001003-1341726349
IBAN: CZ66 0800 0010 0313 4172 6349
BIC/SWIFT: GIBACZPX
Payment in the event office is possible in CZK only (EUR is not accepted).
Competitors without payment are not allowed to start.
EVENT OFFICE at the event centre:
Saturday 23rd June 2018 9:00 – 11:00 a.m.
Sunday 24th June 2018 8:00 – 9:00 a.m. (public race only)
START TIME 00:
Saturday 23rd June 2018 12:00 a.m. interval start
Sunday 24th June 2018 9:30 a.m. interval start
DISTANCES:
Parking (cars) – Event centre: 300 m
Event centre – Start (both days): up to 2000 m
Event centre – Finish (both days): 0 m
TERRAIN:
Terrain is typical for the Bohemian-Moravian Highlands with higher climbing, several parts with stony and rocky structures formed by icy weathering. Rocks reach the height up to 6 metres. Terrain altitude is from 550 to 630 m above sea level.
MAPS:
1:10 000, E = 5 m, A4 for all categories
New maps (spring 2018) according to ISOM 2017, waterproof, main mapmaker Petr Mareček
Previous map: Starý Kvartýr (2001)
Sample of the new map: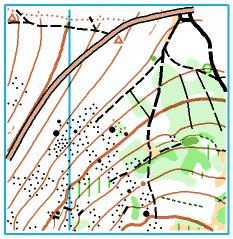 PUNCHING SYSTEM:
Electronic punching system Sportident will be used. Each SI card cannot be used more times in one race.
It is possible to borrow SI card from organisers (rental charge 50 CZK/day). Please specify this request in the entry form.
In case of non-returned SI card, the sanction of 1000 CZK will be claimed.
EXPECTED WINNING TIMES:
According to the valid Czech Competition rules 2018: 35 mins for D21 and 35 mins for H21.
REGULATIONS:
Competition is controlled by the valid Czech regulations (Pravidla OB, Soutěžní řád závodů sekce OB and Prováděcí předpisy k soutěžím sekce OB pro rok 2018) as well as IOF Rules.
ACCOMMODATION:
Accommodation is not arranged by the organiser. Overnight stay in the event centre is not possible.
TRANSPORT:
Transport is not arranged by the organiser. Please inform organisers if you intend to come by your own bus.
REFRESHMENT:
Standard offer of food and beverages will be available to purchase in the event centre.
INFORMATION:
www.tbm.cz/2018-ob-mcrkt/
Jan Gryc: e-mail: jangryc@o2active.cz, tel.: +420 602 789 897
NOTICE:
All competitors take part in the competition by their own risk.
Selling and promotional services (except of o-events propagation) are possible with agreement of the event director only.
EVENT OFFICIALS:
Event director: Jan Gryc
Main controller: Zdenka Kozáková, R1
Course setting: Radovan Čech, R2 – qualification; Zdeněk Liščinský, R1 – final
IOF ADVISOR:
Adam Chromý, IOF SEA
EMBARGOED AREAS:
The region between villages Chlébské, Černovice and Osiky (see the map below).
GENERAL MAP OF THE REGION:
Mapy.cz competition centre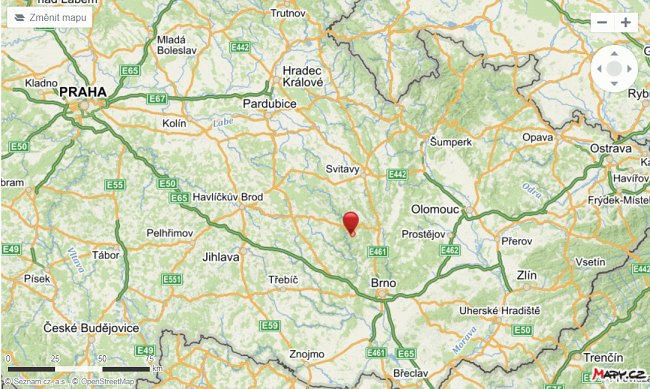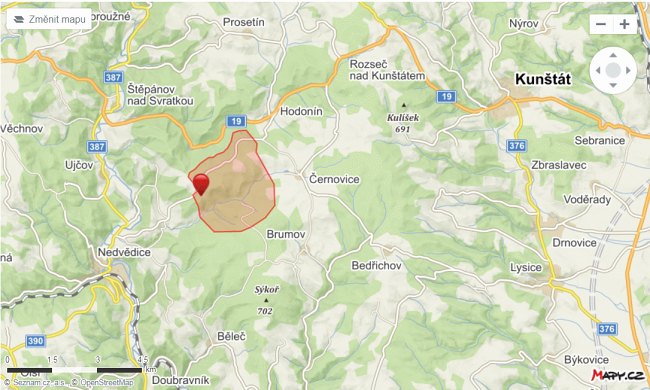 TRAINING OPORTUNITIES:
In case of interest please contact the event director Jan Gryc (jangryc@o2active.cz).
VISAS:
For more information see MV ČR